Post by Leon on Apr 20, 2012 22:19:56 GMT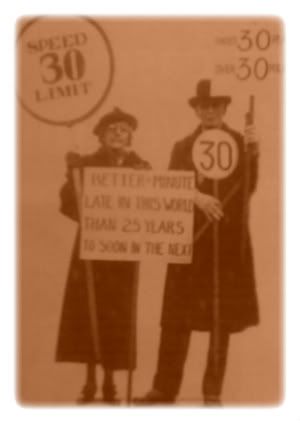 I was reading a newspaper earlier and I came across an old advert from the 1930s. The advert reads, Better a minute late in this world than 25 years too soon in the next.

Now that makes you think doesn't it. The world has speeded up over the last few decades, everyone is in some rush to get somewhere, and not many are thinking through the consequences of how they get there. By rushing people run the risk of having an accident, or making mistakes within their life. It seems to be a bygone age when people took their time to do anything. It seems people want the next TV or the next car before they have even had the one they have got a year.

People think they have mastered a job, yet they have only been doing it weeks or months. We see that within our group. We have people studying Reiki and before you know it they are a master and want to teach others. Hold up there, this is all going a bit fast. I am sure this was not the way things was meant to be.

Is it so hard to take your time, to enjoy what you are doing, to not think too far ahead of yourself and to make good what you have in front of you, before you jump to the next thing you want!

Are we all not missing something here, are we not overlooking the message God teaches us every day. It is not a great secret but God teaches us patience. God shows us daily how things perfect with patience. The tree does not grow into its full majesty overnight, no it takes years of patient work, to grow from beneath the stones, so that it can proudly stand before the sun.

Nature works slowly and patiently and yet, it achieves its goals, so why do you think you can be any different, after all you are a part of nature, you are not outside of it's circle, you share the same air as everything else that surrounds you, so why do you not take notice.

Why do you have to wait until you are on your knees, before you look up to God to plead for answers, when the answer was there all along. Slow down be patient child, you will receive all that you need, when you learn to be at one with your surrounding and not against them.

Be at one, do not struggle against the call of nature.