Post by aceofcups on Feb 25, 2015 2:36:26 GMT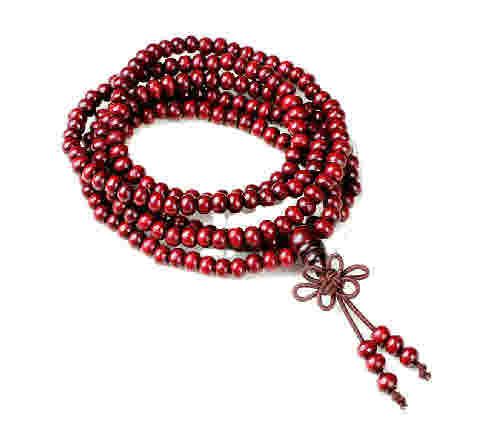 On another thread we where talking about an ancient Tibetan bead which probably came from a string of mala beads. Like to share some information about Mala or Prayer beads:
Buddhist prayer beads, traditionally called malas, first developed as a religious tool on the Indian continent. "The use of beads in prayer appears to have originated with Hindu religious practices in India. Buddhism, which developed from a sect of Hindu culture, retained the use of prayer beads as it became established in China, Korea, Japan, and Tibet."
The Buddha himself is believed to have instructed followers to utilize mala. "There is a Sutra (Buddhist Text aka. "thread of knowledge") in which a King prays to the Buddha for a simple practice to help ease his suffering from various difficulties and the Buddha responded by telling him to string 108 soapnut seeds and recite the three part refuge prayer upon them."
Buddhists normally utilize mala consisting of 108 beads, but the number may vary in different sects of Buddhism. Just like the Hindu variety, Buddhist mala consist of a strand of 108 beads (not including marker beads, decorative beads or guru bead), each a symbol of impurities and flaws that an individual must overcome.
108 beads is said to represent the following formula:
6 x 3 x 2 x3 = 108
6 senses of a human being: sight, sound, smell, taste, touch, thought
3 times: past, present, future
2 conditions of heart, mind or intention: pure or impure
3 disturbing emotional states or "kleshia": like, dislike, indifference
Malas are used for keeping count while reciting, chanting, or mentally repeating a mantra This practice is known in Sanskrit as japa.
Mantras are often repeated hundreds or even thousands of times. The mala is used so that one can focus on the meaning or sound of the mantra rather than counting its repetitions. One repetition is usually said for each bead while turning the thumb clockwise around each bead, though some traditions or practices may call for counterclockwise motion or specific finger usage. When arriving at the head bead, one turns the mala around and then goes back in the opposing direction. This makes using the mala easier as the beads will not be so tight on the string when you use them.
A similar process with it own repeated recitations and prayers in the West would be using the Rosary beads